First of all I hope everyone is staying healthy and safe! We are really living in an unprecedented time right now and it's pretty scary. I just completed my first week of working from home and I'm already going a little crazy. So I've been brainstorming some activities both virtual and in person that I wanted to share.
I will add the caveat that several of these assume you have one other person who is quarantined with you.
Go on a bike ride. There are some great bike paths in Seattle. I spent a Sunday afternoon biking to various parks throughout Seattle and enjoying some wine and snacks at each. See #12 for some great parks to visit.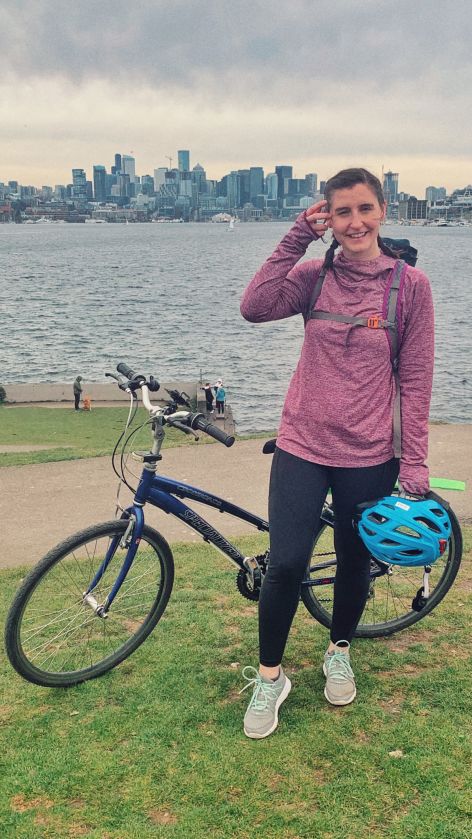 2. Have a picnic. Here and here are some of the best picnic spots in Seattle.
3. Experience a Netflix watch party with friends through Netflix Party. For some Netflix series recommendations see #7.
4. Experiment with all the video chatting apps. I downloaded Houseparty but I know there are so many out there. I like Houseparty because you can play games with friends on the app while video chatting.
5. Host a virtual social event. I haven't done this but think I may need to. Here are my ideas:
Host a trivia night – I think it would be so cool to host trivia with your friends. Or jeopardy or something. You would have to get a little creative. Here is one tutorial how to do this.
Host a power hour/happy hour
Host a casino-type game night: Poker/blackjack/crapps
Host a dice game. Liars dice would be pretty fun but here are some more dice game ideas.
Play Jackbox with friends. Usually you have to be in the same room with them but this video shows you how to play remotely.
6. Play sports. This helps if you have one other person to play with. I was thinking it would be fun to go play softball and practice some hitting and catching. I have wondered if you could do this with another couple as long as they stayed in the outfield or something. You would have to make sure to thoroughly wash your hands if you are all touching the same ball. You could also go kick a soccer ball around, play some frisbee, or catch a football.
7. Binge watch TV – as if we aren't already doing this. I'm linking the best shows (by rotten tomato standards) for Netflix, Hulu, and Amazon prime.
8. Do a house project. Here are some of our recent house projects:
Refinished chairs/end table/coffee table – here is the before and after of our bar stools:
Installed ceiling fan
Painted spare bedroom
9. Find some fun crafts. There are some great DIY/craft projects out there.
10. Culinary experimentation – what better time than to experiment with different recipes and recipe types. I've been on an instant pot kick lately. But you could also try out some of my favorite tried and true Pinterest recipes, or some of my favorite whole 30 recipes. Or you can do a big freezer meal prep. I did this once and it was a lot of work but so helpful because you have meals on hand for the next month. The kitchen is your oyster! Find some fun crafts. There are some great DIY/craft projects out there
11. Do some gardening or repot your plants. My plants have been looking pretty questionable lately and I think it's time to repot. Here is how to repot and 5 reasons why you should.
12. Go rock climbing – this probably only works if you've gone before and have the gear. Here are some local areas to go rockclimbing.
13. Visit a Seattle park. Remember to keep your distance from others during this time. This is a great way to get out and we have some really great parks!
14. Read a book (ok boring, I know). I'm going to recommend one book and you will not be disappointed. Read the true story Educated.
15. Go on a hike (maybe). Apparently the trails have been packed, which really doesn't make social distancing effective. So find the less wandered paths and keep your distance.
16. Make a budget (and track your expenses). With the economy in disarray, this may be the perfect time to sit down and track your expenditures to see where you are and set goals for the future.
17. Deep clean your house. This should be bottom of the list right? Saved for a really rainy day. I always find it interesting how everyone cleans differently. Here is a list of all the deep cleaning things that should probably be done at some point or another.
18. Make a tiktok dance video. I tried my hand at one and I think it was relatively successful. There's lots of dancing ones out there and dances trending. Join the dancing fun!
19. Work out at home. I've decided to dedicate all this time at home to improving my health which includes working out a lot more. I used to go to my favorite gym and participate in their classes every once in a while but with all the shut downs I've discovered they are live streaming their workouts now. Here is my favorite gym live stream site. Highly recommend the Tabata workouts!
20. Tour a museum virtually. Apparently museums that have had to close are doing virtual tours now which could be pretty cool. If only Disneyland had a virtual tour…
21. Play some video games (Luke made me add this). He's been trying to get me to play Halo with him forever. Will I play during this dark time?
22. Go snow shoeing/cross country skiing. Here is a link to the best beginner snowshoe hikes in the area.
23. Go kayaking/rafting (only works if you have a kayak/raft). Unfortunately I don't. But maybe you do! As the weather gets warmer if we are still in quarantine I may go float on a lake (alone) with a good book because I do have innertubes.
24. Do some spring cleaning – watch the Marie Kondo series if you haven't already. I'm very late to the game on this one but I may take this quarantine time to get rid of all the stuff that no longer brings me joy.
25. Go rollerblading – bet you didn't know there are inline skating trails in Seattle and a website with more details.
26. Meditate. This is something I have been wanting to start doing. I keep reading how meditating for even just 6 weeks is so beneficial. I'm going to start using my time at home to build meditation into my routine. Here are some great meditation apps to help you get started.
Have more ideas not listed here? Please share!