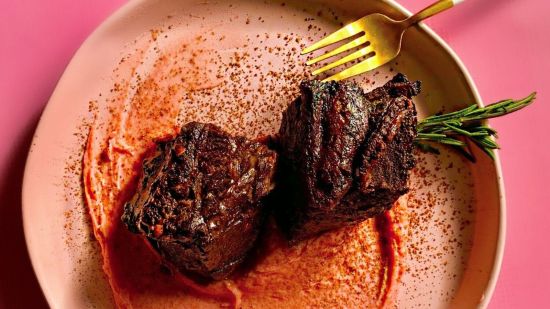 Mocha Braised Short Ribs
FROM DISH BEAUTIFUL
Article by Lindsey Bishop
Photography by Lindsey Bishop
INGREDIENTS
4 lb beef short ribs
2 T olive oil
3 cloves garlic, minced
1/2 C dry red wine
2 t espresso powder
3 C beef broth
3 T cocoa powder
1 T cinnamon
1/2 t cayenne pepper
PREPARATION
Preheat oven to 300°F. Trim fat from ribs. In extra-large oven-going skillet heat oil over medium heat. Add ribs, cook until brown on all sides, working in batches if necessary. Remove ribs from skillet. Add garlic, cook and stir 1 minute more. Add wine, stirring to scrape up crusty brown bits from bottom of skillet. Add espresso powder, cocoa, cinnamon and cayenne, and pepper. Stir in broth and bring to a boil. Return ribs to skillet, cover and transfer to oven. Bake 3 to 3-1/2 hours or until ribs are tender and falling off the bone. Remove bones and serve over mashed potatoes.
Follow Lindsey Bishop @dishbeautiful
I am a creator, a writer, a home entertainer, recipe developer, food stylist, photographer and culinary storyteller. My motto is "Make it beautiful." I tend to live and breathe that motto in everything that I do, but especially in the kitchen and on a plate. I don't back myself into a culinary corner of any particular cooking category like, Whole 30 or Paleo, Vegetarian or...
Related Businesses
Boulevard Brewing Co. Tours and Rec Center
Kansas City, MO
Just a stone's throw from the brewery, this is the hub for all tours, shopping and sampling straight from the source. The...
Crown Center
Kansas City, MO
Visit Crown Center in the heart of Kansas City to find one-of-a-kind shopping, dining, can't-miss events, and attractions...
Overland Park Farmers' Market
Overland Park, KS
The Overland Park Farmers' Market is a vibrant public gathering place that builds community pride and spirit by bringing...