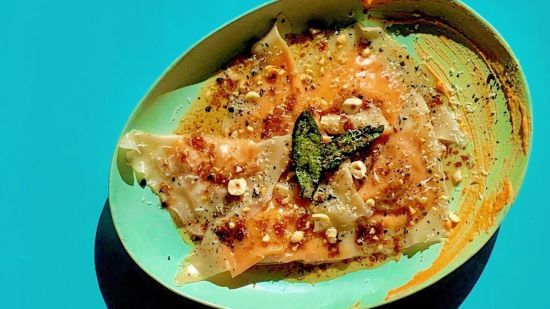 Sweet Potato Ravioli
WITH BUTTER SAGE SAUCE
Article by Lindsey Bishop
Photography by Lindsey Bishop
Ingredients
1 lb sweet potatoes
20 wonton wrappers
1 stick butter
4 large sage leaves
4 oz goat cheese
1/2 C toasted hazelnuts
1/2 t cayenne
1/2 t paprika
1/2 T cinnamon
1/2 t nutmeg
1/2 T vanilla
S+P
Freshly grated parmesan
Preparation
Preheat oven to 400. Wrap sweet potatoes in foil and bake on a baking sheet for 45 minutes until tender. Meanwhile, brown the butter in a skillet and add sage until crisp. Once the potatoes are cool enough to handle, remove skins and place in food processor. Add goat cheese, spices, vanilla, salt and pepper to taste. Blend until smooth. Place mixture in a piping bag or ziplock with the corner snipped. Pipe onto wonton wrappers. Paint the edges with water and fold into triangles. Add to a pot of boiling water. They are ready when they float to the top. Remove with a slotted spoon and ad to plate. Top with browned butter, sage, hazelnuts and a dusting of parmesan.
I am a creator, a writer, a home entertainer, recipe developer, food stylist, photographer and culinary storyteller. My motto is "Make it beautiful." I tend to live and breathe that motto in everything that I do, but especially in the kitchen and on a plate. I don't back myself into a culinary corner of any particular cooking category like, Whole 30 or Paleo, Vegetarian or...
Related Businesses
Boulevard Brewing Co. Tours and Rec Center
Kansas City, MO
Just a stone's throw from the brewery, this is the hub for all tours, shopping and sampling straight from the source. The...
Overland Park Farmers' Market
Overland Park, KS
The Overland Park Farmers' Market is a vibrant public gathering place that builds community pride and spirit by bringing...
Crown Center
Kansas City, MO
Visit Crown Center in the heart of Kansas City to find one-of-a-kind shopping, dining, can't-miss events, and attractions...