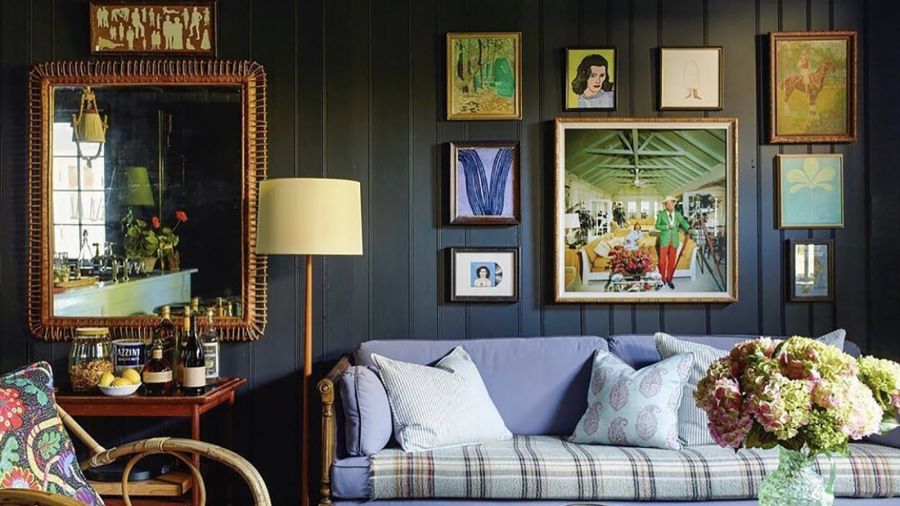 Explore German Design Concept Gemütlich
Move over Hygge, There's a New Zeitgeist in Town
Article by Annabel + Jen
Photography by Annabel + Jen

Gemütlichkeit done right. A bedroom set-up that encourages you to linger over just one more bedtime story with a little one creates an inner world of coziness and belonging.
Move over Hygge, There's a New Zeitgeist in Town
I majored in German in college. I also majored in American history. I know, an odd combination and in no way related to interior design, but I loved studying both these subjects. I most definitely do not have a proclivity for foreign languages, however, and most of the German I did learn is buried deep in the recesses of my brain. But, I do love words and probably my favorite German word of all is Gemütlichkeit.
Gemütlichkeit
You see, there are German words that don't have an exact corresponding English word translation, and yet somehow it's these German words that precisely capture the essence of a certain feeling or mood. These types of German words are my absolute favorite. It's like they quench that insatiable feeling you get when you want so badly to describe something to someone and the words are just at the tip of your tongue, but you can't seem to gather them up and clearly articulate exactly what it is you want to describe. Or, if you do try to describe it, it takes you a paragraph to explain yourself and still the description doesn't quite do justice to whatever it is. Well, it always seems to me that in German...there's a word for that! A nice, concise (or not so concise) single word that neatly sums it all up. Just like that. And my favorite?

Reath Designs. Photo by Laure Joliet. An intimate dining nook made for gathering naturally promotes the feeling of Gemütlichkeit.
Gemütlichkeit
To give you an idea of what Gemütlichkeit means, I defer to someone whose German is far better than mine. In a blog post from The German Language Blog, author Constanze describes Gemütlichkeit as this:
Gemütlichkeit refers to a feeling of cosiness, contentedness, comfort and relaxation. It is difficult to translate using one word because it refers to a specific kind of feeling and situation that the words 'cosy' or 'comfortable' are too simple for. For example: A soft chair in a coffee shop might be considered 'cosy'. But sit in that chair surrounded by close friends and a hot cup of tea, while soft music plays in the background, and that sort of scene is what you'd call gemütlich.

You can't beat old wooden doors in a new white kitchen for creating a sense of Gemütlichkeit. Doors from Antiques Warehouse. Project by Gather Projects.
See what I mean? In English, poor Constanze needs a paragraph to explain it to us. But in German? Just a single, wonderful word. Yes, a word that does force you to use every muscle in your mouth to pronounce. In fact, If ever there were a word whose pronunciation made your mouth work like it does when you're chewing taffy, it would be Gemütlichkeit.
But a single word nonetheless.

It's fitting that Rita Konig's clients named this annex off their main house "The Snug." The cozy seating area and bar within arm's reach pretty much guarantees immediate Gemütlichkeit. Photography by Eric Piasecki.
In recent years, we've all been a bit taken by foreign "feeling" words and how they relate to home-(decor)-front: We've become fascinated with words like Feng Shui, Lagom, and Hygge. Well, no reason to stop now. It's a new decade afterall. I say, bring on the Gemütlichkeit.
Similar to the Danish word Hygge and its connotation of coziness, but without any of the associated Scandi minimalism, Gemütlichkeit refers to that feeling of coziness when you're surrounded by loved ones and feel a contented sense of belonging. So with that in mind, I say we enter this new decade ready to celebrate home first and foremost as a place to gather with the people we love. Where perhaps the the main purpose of home is a place where we can contentedly enjoy the company of those we want to spend time with.

Layers of pattern and texture draw you in to this inviting sitting area by Heidi Caillier Design. Photos by Haris Kenjar. The convenient, yet space-saving large wall sconce is the perfect functional piece that makes this room all the more cozy.
Yes, there's function in to keep in mind. I'm not saying we throw function to the wind: you do of course need to cook in the kitchen, you want to watch tv in the family room, you read in the library, and you sleep in your bedroom. But with good design, all of these functions should be done with ease, with comfort, and should provide you that opportunity to create some good Gemütlichkeit.

There's nothing that suggests Gemütlichkeit more than two moody, velvet armchairs like these by Colefax and Fowler.
So as we plan and design and decorate our homes in this new decade, let's focus as much on Gemütlichkeit as on function. I say, let's focus on how well each room fosters a sense of coziness, of comfort, and of belonging in those who gather there. Let's ask ourselves, how well does this room invite you in to mingle, to linger and to enjoy one another's company? How well does it tell the story of where you've been, who you are, your experiences, traditions, your celebration of memory--Both individual and collective memory? Do you want to linger in that bedroom, nestled under the covers, and read one more nighttime story to your child? Do the dim lights, candles and textured wallcovering in your dining room envelop your guests, causing them lean in over the table for just one more reminiscense, one more old story told a thousand times before, one more sip of port before the evening ends?

You can achieve Gemütlichkeit in a light and airy room, of course. Here, Gil Schafer evokes the feeling with a deep-seated plush sofa and ample seating for easy conversation.
I don't know about you, but I am all for this type of decorating. Let Gemütlichkeit be our compass as we make decisions for our homes in 2020.
Pleated pendant shades, natural woven side chairs and enveloping host chairs, block print on the walls and colorfully painted trim add layers of interest to this dining room by Andrew Howard. What guest would ever want the dinner party to end?
And what better way to start than to look at inspiration?
— Jen
Trim Design Co., located in the Greater Boston area, is a boutique interior design studio founded by designers Annabel Joy and Jen Dulac. Trim specializes in customized online interior design, fusing the tailored service you expect from traditional, full-service interior design with the convenience of working with us online. Trim also provides full-service interior design to...
Related Businesses
Art & Frame Warehouse Kansas City
Kansas City, MO
FAMILY AND LOCALLY OWNED Art & Frame Kansas City - Northland Boutique Frame Store Experience - Warehouse Prices The Art &...
Three French Hens - Wildwood
Wildwood, MO
Furniture, Home Decor and Interior Design Boutique Located in Wildwood!
Visions tile & stone, inc.
Tulsa, OK
We offer a high quality and extensive selection of tiles and stone to match any project on your list. We carry ceramic and...