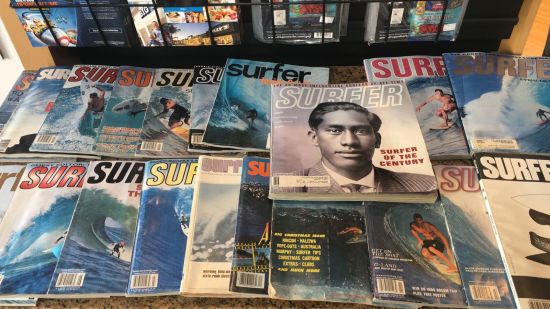 24 Hours in Huntington Beach, California
YOUR ITINERARY FOR A PERFECT DAY
Article by Latifah Al-Hazzá
Photography by Latifah Al-Hazzá
Huntington Beach, aka Surf City USA, is the perfect town to stay the night in if you need a little getaway from a major SoCal city or if you'd like to take a break during your road trip along the coast. Follow this itinerary to get the most out of your stay in Huntington Beach.
*Everything on this itinerary is within walking distance of each other.
Make your first stop the Huntington Beach International Surfing Museum. The museum is a small space that displays various surfboards and surf memorabilia. There's a small exhibit dedicated to Gordon Duane, Huntington Beach's surfing pioneer and surfboard craftsman as well as one for Duke Kahanamoku, the Father of Surfing. The world's largest surfboard is located outside in the parking lot and is a Guinness World Records holder at 42 feet long.
Next, I recommend walking to the infamous Huntington Beach Pier to admire the badass surfers take on gnarly waves. At 1,850 feet in length, this pier is the longest on the West Coast!
Once you start to get a feeling of regret that you didn't take those surfing lessons when you were younger, head to the Visitor Information Kiosk at the foot of the Pier to start your self-guided walking tour of Historic Downtown Huntington Beach. The tour is a 1.5-mile loop and has 35 stops. A few of the stops include:
California bungalow architecture built in 1922
A gas station built in the 1920s
A stand-alone jail cell built in 1916
The only unaltered pre-1910 commercial building in town
One of the oldest standing churches in town
The site of the old legendary Surf Theater
The site of the Golden Bear rock 'n' roll music venue
*Sunset Beach is another self-guided walking tour that you have the option of taking as well. Start location and sites differ.
You'll be famished after your walking tour. Head to Bluegold for a delicious meal with great ocean views. You won't want to go in your beach attire though as it's a bit more of an upscale/business restaurant. I recommend the burrata pie pizza.
Now it's about time to check into your hotel. The Kimpton Shorebreak Hotel Huntington Beach is as trendy and adorable as it gets! With a game of outdoor life-size chess, wine and beer hour, yoga mats in each room, bicycle rentals and totally IG worthy décor, Shorebreak is the perfect surfside getaway.
Fun fact: The Shorebreak Hotel is also the site of the once-legendary Surf Theater (a stop on your walking tour).
Spend your time relaxing at the hotel, tanning on the beach, cycling the boardwalk, playing beach volleyball, admiring the town's street art or even attempting a surf lesson!
Hop in the shower and get ready for dinner at the hotel. Pacific Hideaway, located in the lobby of Shorebreak has a delicious Latin-Asian fusion menu. I recommend the grilled fish tacos.
Get ready for a night out at one of SoCal's hottest nightlife spots, The Bungalow. This indoor/outdoor lounge gives off all of the Cali vibes. Dress to impress but don't expect a nightclub. This chic lounge is very cozy as the inside is set up like a house with a collection of antiques, but it also has an oceanfront patio and a pool table. Trust me, this is unlike any place you've ever been.
Before heading out in AM, stop by Sessions Sandwiches to grab coffee and a bite to eat. Should I mention that this café is very IG worthy?
**Check out my guide to Catalina Island for a nearby SoCal excursion.




A travel journalist inspiring women to travel more, adventure more + explore more through carefully crafted + personally experienced itineraries.
Related Businesses
Union Station
Kansas City, MO
Architectural Masterpiece. A place for great adventure. Where Kansas City Connects. These phrases—and more—are regularly used...
Overland Park Arboretum And Botanical Gardens
Bucyrus, KS
At the Arboretum, visitors may experience and explore 13 gardens with more than 1,700 species of plants, trails that traverse...
Jet Linx St. Louis
Bridgeton, MO
With the power of a national fleet combined with a local, personalized approach, Jet Linx in St. Louis offers clients a level...