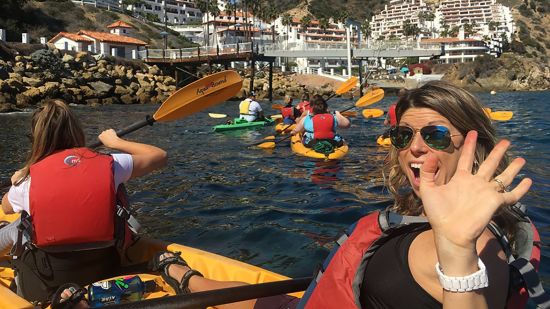 A Girls' Weekend on Catalina Island
ADVENTURE ON THIS FORMER CELEBRITY HOT SPOT OFF THE COAST OF SOUTHERN CALIFORNIA
Article by Latifah Al-Hazzá
Photography by Latifah Al-Hazzá
Santa Catalina Island is truly a tropical getaway just 22 miles off the coast of Southern California. Today, the island has gained fame from the Catalina Wine Mixer featured in the movie, Step Brothers. But, back in the day, Catalina was the ultimate getaway for A-list celebrities.
In 1864, Catalina was owned by James Lick— considered to be the wealthiest man in California. After a number of failed attempts at restoring the island, the Banning Brothers purchased the island and built the city of Avalon as well as the green pier. Things took a turn for the worse when a fire broke out in 1915 and burned half of Avalon's buildings. The brothers were forced to sell the island to William Wrigley Jr., the founder of chewing gum. Wrigley popularized Catalina by having the Chicago Cubs baseball team train on the island during the summers. In the 1970's Wrigley gave 88% of the island to the Catalina Island Conservancy for preservation.


The island served as a location for a number of Hollywood hits. It has been transformed into Tahiti, the American frontier, the coast of North Africa and is the home of the famous mechanical shark, Jaws. Celebrities such as Charlie Chaplin, Marilyn Monroe and Clark Gable were among the many movie stars who frequented the island for work and pleasure.
Film production on the island decreased after WWII as aviation technology made it easier to actually travel to the destinations being portrayed. Nonetheless, Catalina Island is still sought out by some filmmakers.
Today, Catalina Island offers a lot more activities than most people realize. It's the perfect weekend getaway and I've provided you with an itinerary to see the best parts of it.


The Ultimate Girls' Trip Itinerary
Friday
The most common way to get to Catalina Island is via the Catalina Express (helicopter is another option). The Catalina Express departs from three different ports along the coast of Southern California: Long Beach, San Pedro and Dana Point. You'll want to take the hour-long ferry to the port of Avalon on Catalina Island.
The ferry is comfortable and spacious with an outdoor deck and a second floor. Snacks and refreshments are available on-board. Access to the Commodore or Captain's Lounges can be purchased as well. The lounges offer priority check-in and boarding, complimentary drinks, a snack and reclining seating.
You may notice that it is pretty chilly inside the ferry, they do that purposefully to help prevent people from getting motion sickness— bring a jacket!
I recommend taking the first ferry out to make the most of your time on the island.
1 Hour
Once on the island check into the Pavilion Hotel. It's about a five-minute walk from the ferry dock. This is the perfect hotel because it is located steps away from the beach, in the heart of Avalon, offers free breakfast and has a free wine and cheese hour! What more could you ask for?!
Fun fact: All toilets on the island use salt water.
10-minute walk
Start by visiting the Catalina Island Museum to learn more about the history so you'll able to reference back to this knowledge throughout your trip.
5-minute walk
After getting some insight into the island's history, take the Catalina Casino behind-the-scenes tour. Heads up— it's not actually a casino but a theater. Back in the day casino meant a place of gathering and entertainment. It wasn't until Las Vegas' casinos popped up that they decided those were also a place of entertainment and gathering so the term casino was coined to be what we think of today.
Built in 1929, the Avalon Theater was the first theater in the world built for talkies. Radio City Music Hall was actually guided by this theater's blueprint. The $2 million casino now hosts high school graduations and is still used as a theater for their one daily evening showing.
The 90-minute tour takes you backstage to dressing rooms, the projection room, green rooms, Wrigley's private viewing room and it even gives you a chance to step on the stage. You'll also be able to step on the dance floor of the suspended ballroom above the theater
10-minute walk
Next up will arguably be the most exciting part of your trip— the East End Adventure Tour. Buckle up! But really please do… this two-hour expedition takes you on an open-air Hummer around Catalina's ridgetops and rugged canyons.
You'll learn a lot about the flora and fauna of the island. You may even spot bison, which were brought to the island for a movie scene but never actually used!
When booking, request Bear— he's the best guide you'll ever have!
Watch My East End Adventure Tour Video
5-minute walk
Head back to the Pavilion Hotel to freshen up and get ready for dinner.
5-minute walk
Enjoy dinner at Avalon Grille. My number one recommendation would be the dulce de leche cheesecake. Hey, I'm all about having dessert first!
Saturday
Rise and shine! Grab a hot breakfast at the hotel and enjoy it outside with beautiful ocean views.
15-minute walk
Head to Descanso Beach Ocean Sports for a guided two-hour kayak tour to Frog Rock. Sandals, paddle pants and windbreakers are available to use.
This is such a FUN tour where you'll learn about birds, plants, geology and ecology. If you're lucky enough, a friendly sea lion may join you!
Once you reach Frog Rock beach (a rock that looks like a frog), you'll be able to get out and take a dip in the water. The guide will also offer you a tasty snack!
Pro Tip: If you love kayaking, Catalina Island offers camp and kayak tours around the island.
Fun Fact: The Catalina Channel is the deepest channel in the world.
After your tour, soak in the sun or grab a drink at Descanso Beach Club.
15-minute walk
Take a break to refuel by grabbing lunch at Bluewater Grill before your next adventure. I recommend the fish tacos.
Be sure to ask for patio seating for amazing views of the harbor.
5-minute walk
I hope you're not afraid of heights because it's time to parasail! With Island Water Charters Parasailing, you'll see amazing views of Avalon 1,000 feet in the air (there are less high options if you prefer).
You can fly without ever getting wet, unless you ask to have your feet dipped in the water.
Carlos Hernandez and David Christensen are amazing captains and they'll take great photos in case you'd like to purchase a photo package.
2-minute walk
Head back to the hotel to shower, change and make it to the lobby in time for wine and cheese hour.
5-minute walk
You can't leave Catalina without having a seafood dinner at The Lobster Trap. I recommend the clam chowder and seafood pasta.
Fun fact: There are actually real lobsters crawling around on the tables.
5-minute walk
Reserve to be picked up from the restaurant for a two-hour astronomy tour. Transportation will take you to Buena Vista Point, where you'll learn about the history of astronomy, mythology, how to find constellations and a basic understanding of the solar system and galaxy.
You'll also get a chance to look at the moon and planets through a telescope.
Sunday
I'd advise waking up early to watch the sunrise to make up for the fact that Avalon is the only West Coast city with no sunset.
Head to the green pier for amazing views.
20-minute walk
Make your last activity on the island a challenging one with Catalina Aerial Adventure. Wear workout clothes as you'll climb, swing and crawl from tree to tree on a series of ropes, ladders, log bridges, balance beams and zip lines.
Don't worry you're harnessed in for all of these challenging obstacles!
Beginner, intermediate and advanced courses are available. Time spent here will depend on how many courses you'd like to test out.
Spend some time exploring the island before boarding the Catalina Express back to the mainland.


A travel journalist inspiring women to travel more, adventure more + explore more through carefully crafted + personally experienced itineraries.
Related Businesses
Union Station
Kansas City, MO
Architectural Masterpiece. A place for great adventure. Where Kansas City Connects. These phrases—and more—are regularly used...
Overland Park Arboretum And Botanical Gardens
Bucyrus, KS
At the Arboretum, visitors may experience and explore 13 gardens with more than 1,700 species of plants, trails that traverse...
Camp Lucy
Dripping Springs, TX