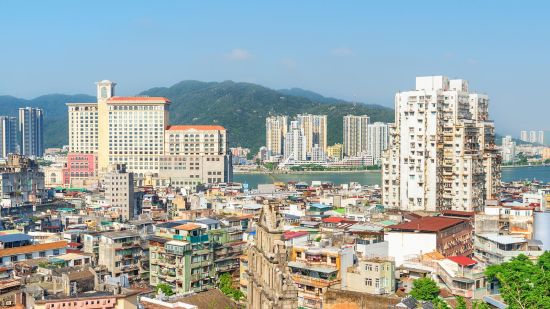 Bungee Jumping into Macau
TAKE THE LEAP IN THIS CHINESE PENINSULA
Article by Latifah Al-Hazzá
Photography by Latifah Al-Hazzá
If you're coming from Hong Kong (like I did), take the ferry over to Macau (a small peninsula in mainland China) for a day trip. Believe it or not, this Chinese region attracts a number of visitors because it is home to Portuguese ruins that date back to the 16th century. Foreigners and Chinese natives also visit Macau for their casinos; it's been branded as the Las Vegas of the Far East. Needless to say, neither of these reasons is why I decided to make the short journey over. I visited Macau because I could not pass up the opportunity to leap from the world's highest bungee jump.
From Hong Kong, ferries run from the Shun Tak centre in Sheung Wan on Hong Kong Island and from the China Ferry Terminal in Tsim Sha Tsui (TST) in Kowloon. Once in Macau, I took a bus to the AJ Hackett Macau Tower (taxis are also available). Buses 9A, 18, 23, 26 and 32 will all take you to the tower.
I made sure to speedwalk into the lobby of the tower to avoid becoming paranoid from looking up and watching people jump. I'd advise everyone to do this. Once on the top floor, I was given a t-shirt to put on and a VIP badge to wear. When it was my turn, they harnessed me up, gave me a sign to take pics with, then pushed me off the edge (with my permission). Honestly, if they hadn't of pushed me, I may have made them count to three 10+ times before I actually jumped.
I got to keep the t-shirt and was able to purchase a silent GoPro video of my jump from start to finish. At 764 feet high, AJ Hackett Macau Tower's bungee jump is very satisfying for the adrenaline junky. Jumpers even have the option of a daytime or nighttime jump with beautiful views of all of Macau.
*If bungee jumping isn't your thing, they also offer other activities such as SkyWalk, where participants walk along the edge of the building with a harness on.
Follow Latifah Al-Hazzá @tifahhhh
A travel journalist inspiring women to travel more, adventure more + explore more through carefully crafted + personally experienced itineraries.
Related Businesses
Union Station
Kansas City, MO
Architectural Masterpiece. A place for great adventure. Where Kansas City Connects. These phrases—and more—are regularly used...
Overland Park Arboretum And Botanical Gardens
Bucyrus, KS
At the Arboretum, visitors may experience and explore 13 gardens with more than 1,700 species of plants, trails that traverse...
Riverside Bed and Breakfast
Soddy Daisy, TN