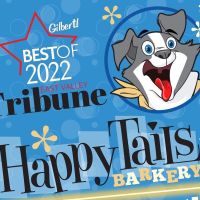 Happy Tails Barkery

Proudly serving the Gilbert, AZ area.
About Us
At Happy Tails Barkery we like to take very few things in life seriously. However, when it comes to our doggo's, we take their treats seriously. We understand some dogs have food allergies and do best when their treats contain minimal, high quality ingredients. Happy Tails Barkery was born 11 years ago out of that passion for dogs, and a belief...
Promotions
We want to provide you with the best service possible. Here are a few of our most recent promotions you can take advantage of and as always if you have any questions feel free to contact us.
Gilbert Farmers Market

Old Town Scottsdale Farmers Market