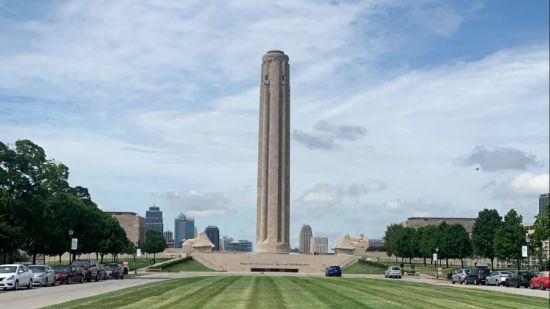 National WWI Museum and Memorial
VISIT THE NATIONAL WWI MUSEUM AND MEMORIAL OR CHECK OUT  UPCOMING EVENTS
Article by Julie Burton
Photography by Julie Burton
Do you know who this man is?
You can probably take a guess: the Jonas Brothers' grandpa, Luke Perry, Matthew Perry, Spike from Buffy the Vampire Slayer, Neil Patrick Harris, James Van Der Beek, Delmont Mulroney.
No, this man is not any of the men mentioned above. This man is Uncle Sam.
James Montgomery Flagg drew himself on this piece of propaganda used during World War I. Propaganda, a collection of posters, were the social media of the time. Flagg didn't want to go through the trouble of finding a model, so he added a white goatee and aged himself. Uncle Sam is a self-portrait.
This German fighter pilot wrote the 8 Rules of Air Combat. These rules are still loosely used today when training fighter pilots.

This isn't history class. Keep reading, trust me.
The war began in 1914. By the time the war ended in 1918, 50,385 Americans were killed in action and 54,754 Americans died of disease. You were more likely to die of disease than to be killed in action. Do you know what else occurred in 1918? The 1918 Spanish Flu pandemic. The men and women going home played a role in spreading the virus around the world.
They say history repeats itself.
I don't know who "they" exactly are. Historians? Well-read people? I'm guessing there is no one over the age of 102 who can tell us if the 1918 flu pandemic is history repeating itself. 1918 went from wartime to a time of washing hands, wearing a mask, and staying in quarantine. Sound familiar?
History repeats itself, so pay attention.
We're human. We have emotions, emotions that don't always include sadness, even in dire situations. We find the humor. We smile and tell stories to friends. The world during World War I was not in black and white. It was in color. An archivist at the museum discovered a letter in the archives that included toddler doodles. Toddler doodles. The mind of a 3-year-old is the same in the year 1917 as it is in 2020.

You smiled, didn't you?
The National WWI Museum and Memorial is filled with collections of stories that want to be told. And they're anything but boring. Ask any of the employees at the museum, and they'll tell you how World War I shaped how we live today.
Kansas City loves Kansas City. There's another mark of hometown pride sitting inside a small tank. You can't miss it. One common practice of tank mechanics was to write their name on the inside of the tanks. The name inside the tank at the museum is from a mechanic from—yep, Kansas City. Pretty impressive for being a French-made tank.
Are you a woman who is voting this November? You can thank the women of World War I for leading the war effort. You'll see a section dedicated to the women of the war. Their participation led a wave of global suffrage after the war ended. A victory for women, yes. But the United States wouldn't allow women to be called veterans after the war. The women never received a pension. Their pension didn't come until the 1970s, and by that time, most had passed away. You can get angry for them. I'd imagine they would appreciate the support.
Are you of European descent? What about German? We all know the United States is a melting pot of people from Europe. When the United States entered the war, approximately 10% of Americans were born in Germany or a descendent of Germany. Talk about awkward. The melting pot is even more apparent in The Last Battalion. The 500 Americans that were surrendered by the Germans didn't speak English as their first language.
Want to hear another cool story? I got another one. Get this: When the war started in 1914, Denmark was occupied by the Germans. The Danish had to serve in the German military. Two Danish brothers fought together, and one of them died in combat. The other brother buried his own uniform, rifle, everything. And he left. He boarded a ship to the United States, went through Ellis Island, and became a U.S. citizen. The U.S. joined the war in 1917. He got drafted and shipped overseas to fight for the United States. He is most likely the only man to fight on both sides of the war. He did not die in combat. He lived out the rest of his life in Connecticut.
The National WWI Museum and Memorial is currently the only World War I Museum in the United States that is solely dedicated to World War I.
Visit The National WWI Museum and Memorial or check out its upcoming events. Bring a mask and some hand sanitizer. It's funny how history repeats itself.
---
Businesses Featured in this Article
---
Hi, I'm Julie. I am a mom, humor writer and bacon hater – please don't drop me as a friend. I eat meat. I just don't like bacon. It tastes salty. I realize this is a character flaw and I probably can't be trusted but I feel better letting you know I'm going to give you my bacon off my plate. There you go, friend. I have two daughters, Emma, a freshman in high school, and...