This month, men all over Atlanta would be making their annual pilgrimage to Miller Brothers Limited in Buckhead to freshen their spring and summer wardrobes. We sat down (remotely) with owner, Greg Miller to find out how his business has changed during the pandemic and what the fashion forecast is for men this season. We discovered how a prominent brick and mortar business has adapted, growing even stronger and serving long-time customers with aplomb.
SGC: Your business has been an important storefront in Buckhead for decades, providing men with classic haberdashery with personal service as its benchmark. When did you close once COVID-19 hit and how did you first communicate with changes to your beloved clients and the public?
GM: We have been closed since "shelter in place" was put into effect and worked mostly by appointment the two weeks prior. We made the announcement with a letter to our clients through email, our website and social media.
SGC: Tell us about your employees. What have your days looked like since the Governor first ordered shelter-in-place?
GM: Of course, our days are all very different now and we want to get back to some sense of normalcy as soon as possible. In addition to my brother, Robby, and me, we have one full-time salesperson, a controller, an office administrator and a tailoring staff of six. Though we are closed, we are still serving our customers however possible while observing social distancing. We clean and disinfect regularly while offering private appointments, deliveries, curbside pickup, communicating through email, text, FaceTime, social media and our website more than ever. Our controller has been working remotely for the last six weeks and has done an amazing job navigating all the change and uncertainty putting in more hours than ever. Our sales associate has been staying home while our office administrator who supports all of us has been doing whatever is needed. His workload was very limited but he has taken on new responsibilities in the last week. Business is off drastically so there is not much work for our tailoring staff but we make arrangements to alter all garments that need tailoring and we do it quickly! We have kept everyone on the payroll and will continue to do so. We have a great team and everyone desperately wants to work and we hope they can come back very soon.
SGC: Your e-commerce business was being developed earlier this year. How has the new normal affected that pace and progress?
GM: We launched our new website a couple months ago but did not include an e-commerce component. Miller Brothers is about the experience. We pride ourselves on finding lines that are exclusive to us in Atlanta allowing us to provide a diverse product offering, personalized service and master tailoring in a comfortable fun environment where you can relax and enjoy shopping. Our preference is to service our clients in person but due to the current climate we decided we must add this element. We are evolving and very excited about this new opportunity.
SGC: Developing online sales is a huge job. Did you work with a website designer and what will shoppers find on your new website? Will everything be available both online and in the store?
GM: Teplow and Company worked with us on our website and recently showed us that adding e-commerce was not as daunting as we previously thought. They built a basic platform and they are teaching us how to manage and expand it. Teplow's advice was to keep it simple in the beginning so we are showing items that need little to no tailoring where we have product depth. We started with about 20 items including sport shirts, knit shirts, shorts, five-pockets, shoes and swim trunks but will keep adding products weekly. It is not the same as coming in the store but it has great potential and can still be a great experience just a different one.
SGC: Tell us about a few looks for spring that you're particularly excited about.
GM: We have a store full of great merchandise and every category has so much to talk about. Unfortunately, many of our clients have not seen any of it as COVID-19 hit right as we were hitting the peak of spring business.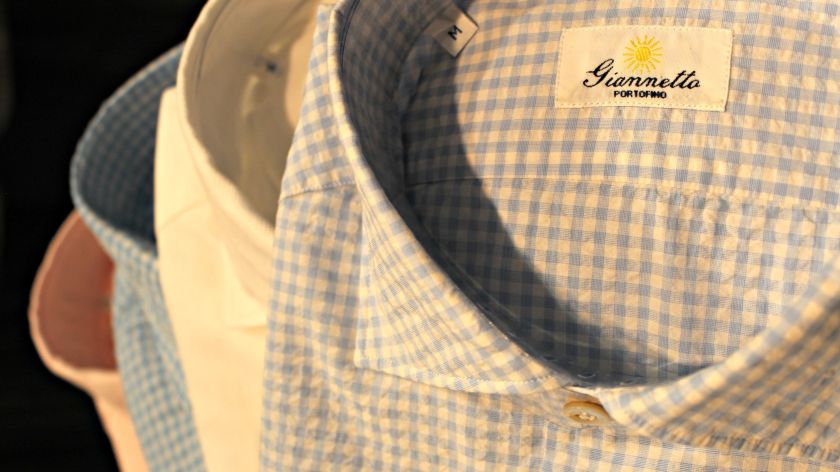 I'll start with our excellent selection of sport coat with beautiful light weight fabrics in silk, wool and linen blends from Samuelsohn, Castangia, Peter Millar Collection, Hickey Freeman, Maurizio Baldassari, Barba and our Miller Brothers Private Label. Our sportswear is strong too with casual trousers in washed twills and wool/linen blends from PT Torino, Incotex and Germano. Add in a few sport shirts from Hamilton, Bruli , Eton, Giangi Napoli and Giannetto Portofino and the additions to your spring wardrobe really start coming together. We also have hundreds of colorful knit shirts from Stenstroms in washed linen, both cotton and performance from Peter Millar, johnnie-O, Faherty and Alan Paine. We have all the basics in shorts and swim trunks but also great pops of color to liven things up as the weather gets warmer. Some highlight in our shoe line up this season are vibrant green suede casual loafers from Santoni, tan distressed suede rubber soled casual wingtips from Scarpe di Bianco, chukka sneakers from ToBoot and great driving shoes from Martin Dingman. Of course, we have interesting belts to coordinate with all of them. I could go on and on….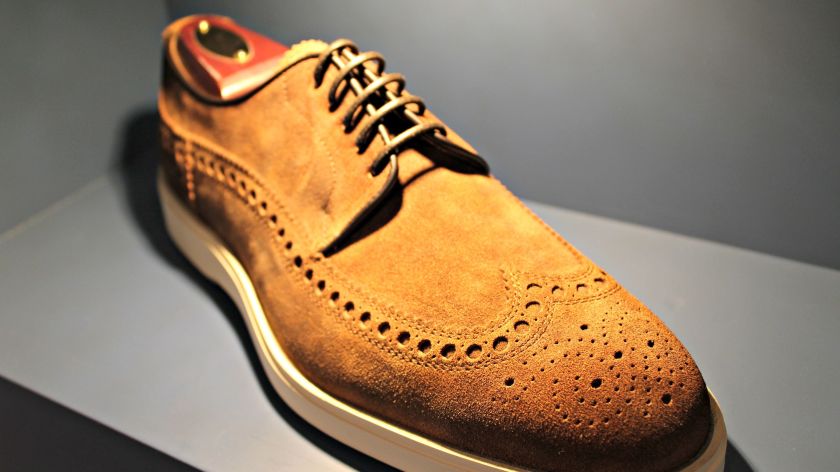 SGC: How can readers find you?
You can find us on the web at MillerBrothers.com, Miller Brothers on Facebook, Miller Brothers Ltd. on Instagram and by phone 404-233-8000.