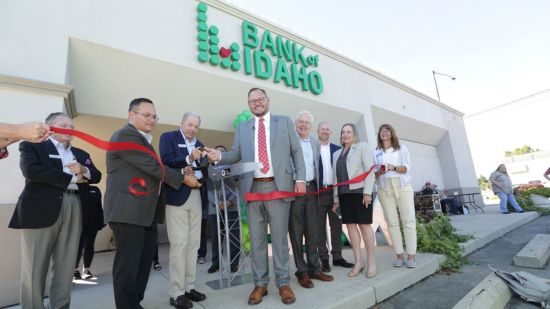 BANKING ON COMMUNITY 
AS SEEN IN AS SEEN IN TIME, FORTUNE & ENTREPRENEUR

Partner Content

Bank of Idaho
Article by Bank of Idaho
Photography by Bank of Idaho
With an ingrained passion for the expanding Idaho communities it serves, Bank of Idaho is committed to putting people first

Nestled in the Northwest United States, Idaho is fast topping the list of migration destinations for Americans eager to plant roots and get connected. From soaring mountains to placid lakes, the state boasts an outdoorsman's paradise, matched only by the region's hospitality and warmth.
For Jeff Newgard, president and CEO of Bank of Idaho, it's easy to see why so many are now making home in one of the country's top in-migration states. "Idaho is a magnet," he says. "It's a very open, friendly place. What we're finding is that, as people move in, they embrace the Idaho attitude, and they want to be engaged in the community."
Community engagement is a draw for veteran and new customers alike. An eastern Idaho institution with headquarters in Idaho Falls, Bank of Idaho was founded on a community-first ethos, a sentiment echoed daily from tellers to division managers. Each transaction presents the opportunity to connect with customers— neighbors, family, and friends who comprise a vast network of partners at the ready.
"People who move to Idaho want to bank with an Idaho bank because of our local knowledge," shares Newgard. "We know good contractors, electricians, and doctors, and we have a whole client base that customers can instantly network with."
"We strive to make the communities we work and live in better. That's what we're all about."
Recent expansion into western Idaho is only furthering the bank's commitment to community as it seeks to stretch its influence to provide a high-touch banking experience on a local level. An influx of mergers and acquisitions in Boise and surrounding areas has left a gap in the market that Bank of Idaho is poised to fill.
"Our approach is not one-size-fits-all banking," says Newgard. "We care for the customer first and seek to serve them, regardless of if it's a banking product or not. By helping people meet their needs, we form authentic relationships."
Helping Small Businesses Succeed
With robust services dedicated to assisting small businesses, Bank of Idaho takes pride in uplifting its communities through helping the businesses who serve them.
"Our whole purpose is to help be a support, and while bigger banks may strive for more loans or deposits to quickly build balance sheets, we focus on developing good relationships. The numbers follow from there," says Newgard.
When the COVID-19 pandemic halted operations—and income—for many small businesses, the bank never lost sight of this relationship-oriented mindset. "We analyzed our portfolio and went to every customer in the bank to offer an extension on their credit and payment deferrals so they didn't have to come to us first," says Newgard. "The FDIC and Idaho Department of Finance supported us in offering that to our customers."
As PPP loans rolled out across the country, Bank of Idaho seized the opportunity to further help customers stay afloat during trying times. "We had to move quickly," Newgard recalls. "We sat down and asked, 'Who are we as a bank?' We saw it as a defining point in our growth and history, and we decided to lean into it to help as many small businesses as we possibly could."
Between PPP rollouts, Bank of Idaho produced nearly one year's worth of loan writing in three weeks. Team members worked tirelessly to help over 1,000 customers and 700 non-customers receive a total of $129.2 million. Transparency and a dedication to helping people survive uncharted economic waters helped the bank grab a large market share while also illustrating the top-down commitment to people over profits.
"It brought tears to my eyes because I saw the dedication that our team had to our small businesses, customers, and their families," Newgard says. "It told me that our heart and culture are in the right place."
Today, a dedicated SBA department stands testament to the bank's passion for taking care of small businesses. With $28 million in SBA 7(a) loans on the books for the last quarter of 2021 and as No. 1 in loan volume in the state, Bank of Idaho is on its way to becoming the No. 1 SBA provider in Idaho.
The Future of Banking
Bank of Idaho's forethought and speed are assets for shareholders navigating the unpredictability of a changing world. Perhaps the biggest value-add is the bank's vetted team members, who serve as agents for business needs and liaisons for community needs.
"We have such a good team," says Newgard. "Getting good talent and retaining them is important, and my priority is creating an environment that gets them up in the morning and helps us define our 'why.' Banking is simply the vehicle to helping people."
Mitigating fears of rising rates is one way Bank of Idaho's team members demonstrate their preparedness and customer-first mentality, but the bank's emphasis on cultivating economic development for local businesses proves its services extend far beyond the teller line. Working in partnership with local governing bodies, Bank of Idaho is expanding interstate travel with a new direct flight between eastern and western Idaho to present new market opportunities.
From banking products to expanded travel, Newgard's dedication to sharing Bank of Idaho's community-first ethos is a personal one. A recognition of his need for enhanced cybersecurity knowledge led him to acquire CompTIA Security+ certification. Since then, he has become the chairman of the Independent Community Bankers of America®'s cybersecurity committee, received an invitation from Idaho's Governor Brad Little to join his cybersecurity task force, and testified in front of Congress for improved security measures. His zeal for helping the financial ecosystem succeed through enhanced data security perfectly illustrates the mission of service that flows through Bank of Idaho.
"It's just ingrained in our culture," Newgard concludes. "We're boots on the ground in our communities so that when a need arises, we're ready to help. We are in the business of helping people. It's not just a tagline for us; it's a way of life. The greatest asset we can donate is time. We strive to make the communities we work and live in better. That's what we're all about."

---
Businesses Featured in this Article
---